Seven DePauw Art Faculty Featured in Exhibition
April 3, 2000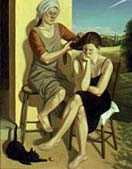 April 3, 2000, Greencastle, Ind. - DePauw University's biennial Art Faculty Exhibition opens Wednesday, April 5 and continues through May 5 at the Emison Art Center Gallery. The exhibition features recent works by seven studio art faculty. Participating are: Ashley Norwood Cooper, painting; David Herrold, ceramics; Robert Kingsley, painting; Christine Mierisch, photography; Cynthia O'Dell, photography; Barbara Fields Timm, painting; and Susan Watt, sculpture.
The artists will discuss their work at the gallery's opening reception on April 5, from 4 - 6 p.m.
Three slide talks about the artists' work are scheduled in the Emison Art Center, room 100B, from 4-5 p.m., on the following days: Tuesday, April 11, O'Dell and Fields Timm; Thursday, April 13, Cooper and Watt; Tuesday, April 18, Herrold and Kingsley. All events are free and open to the public.
Ashley Norwood Cooper, an adjunct member of the art faculty, exhibits still life oil paintings. Cooper is a Master of Fine Arts candidate in painting at Indiana University, and her master's thesis exhibition will open this spring in Bloomington. She also received a bachelor of arts in Latin from the University of Georgia.
David Herrold includes 10 functional and sculptural ceramic works. Herrold, professor of ceramics and department chair, uses detailed surface design with formal
construction and glazing techniques to create his vessels. He is known not only for his ceramic works, but also his digital composite photographs. His exhibition credits include the recent Wabash Valley Annual Exhibition, Sheldon Swope Gallery, Terre Haute; Regional '97, Indianapolis Art Center; two-person exhibition, Albertus Magnus College (1997); and an exhibition at the WWW Gallery, Stockholm, Sweden (1996). In Greencastle, Herrold's ceramics are exhibited at the Poplar Street Gallery.
Well-known oil painter Robert Kingsley exhibits recent, figurative oil paintings. He places the human figures in intimate spaces within a southern Indiana landscape. Through his work, he references myths and legends. Kingsley's paintings are in numerous private collections throughout the United States and Europe. Regionally, his work is in the museum collections of DePauw, Wabash College, Indiana-Purdue University, and the Sheldon Swope Art Gallery. Next fall, Kingsley will have a One Man Show, Recent Work, at the Mark Ruschman Gallery in Indianapolis.
New adjunct art faculty member Christine Mierisch displays photographs from her Socialites series. Her photographs investigate an individual's public and personal space. Mierisch is a master of fine arts candidate in photography at Indiana University, and she received a Bachelor of Fine Arts from the University of North Carolina. Her work was included in the International Exhibition of Women's Art at the SOHO20 gallery in New York City. She received the "Best of Show Award" at the Firelands Association for the Visual Arts Photography Exhibit. Her photographs are in the public collections of the Indiana University Art Museum and the Kinsey Institute, Bloomington.
Cynthia O'Dell unveils a new series of photographs for the exhibition. O'Dell's past photographic quilt series, "Common Threads," was exhibited at the Emison Art Center in a group exhibition, "Rx: An Art Exhibition," and as a solo exhibition in 1998. That series presented the experiences of women who have breast cancer. Her work was chosen for the May 2000 Woman House exhibition, Lombardi Gallery, Austin, Texas. Recently, O'Dell was awarded DePauw's Fisher Fellowship grant to complete a video project, "Residue of Memory", in the fall 2000. Art assistant professor of photography and video, she received a master of fine arts in photography and media arts from the University of Colorado, Boulder.
Barbara Fields Timm reveals new work from her series of quarry paintings, "Beneath the Surface." She was awarded a 2000 Individual Artist Project Grant by the Indiana Arts Commission and the National Endowment for the Arts to create the series.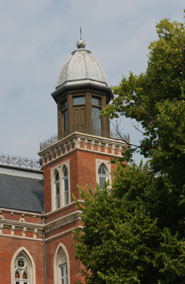 Through painting and collage, Fields Timm constructs her works in layers that parallel the built-up rock levels in a quarry. She is interested in showing this record of history and time in her art works. Fields Timm also displays an artist book filled with collaged works on paper. Fields Timm is represented in Indianapolis by 4 Star Gallery, where she will have a solo exhibition in October. Recent exhibition credits include the Alliance Gallery Fall Exhibition, Indianapolis Museum of Art (1999), and the 54th Annual Wabash Valley Exhibition, Sheldon Swope Art Museum, Terre Haute. She is an assistant professor of painting and drawing and received a master of fine arts in painting from the University of Pennsylvania.
Susan Watt created a gazebo-like sculptural installation made of pounded metal house gutters arranged between the gallery's columns. The 4 tree trunk columns include branch forms which extend over the track lighting system and create a reflective network of colorful metal. Watt works with common materials that might be judged as low-class or that imitate nature. Her work is often built for a specific site and incorporates architectural elements from the site. She is interested in how our built environments and materials reveal cultural and personal values. Watt was awarded the 1999-2000 studio residency by the Stutz Artists Association, Indianapolis, which provides her studio space. She also won a 2000 Individual Artist Project Grant by the Indiana Arts Commission and the National Endowment for the Arts to create an outdoor installation, "Crown Vetch", made with more than 5,000 green plastic bottles. She received third prize in the 1999 Indianapolis Installation Fest. Watt is the Emison Art Center gallery director/University curator. She received a master of fine arts in sculpture from Washington University.
The Emison Art Center Gallery is located at 309 S. College Avenue, Greencastle. Gallery hours are Monday-Friday, 9 a.m. - 4 p.m.; Saturday, 10 a.m. - 4 p.m.; Sunday, 1-5 p.m. For more information, call (765) 658-4336 or (765) 658-4345 to schedule tours.
Back